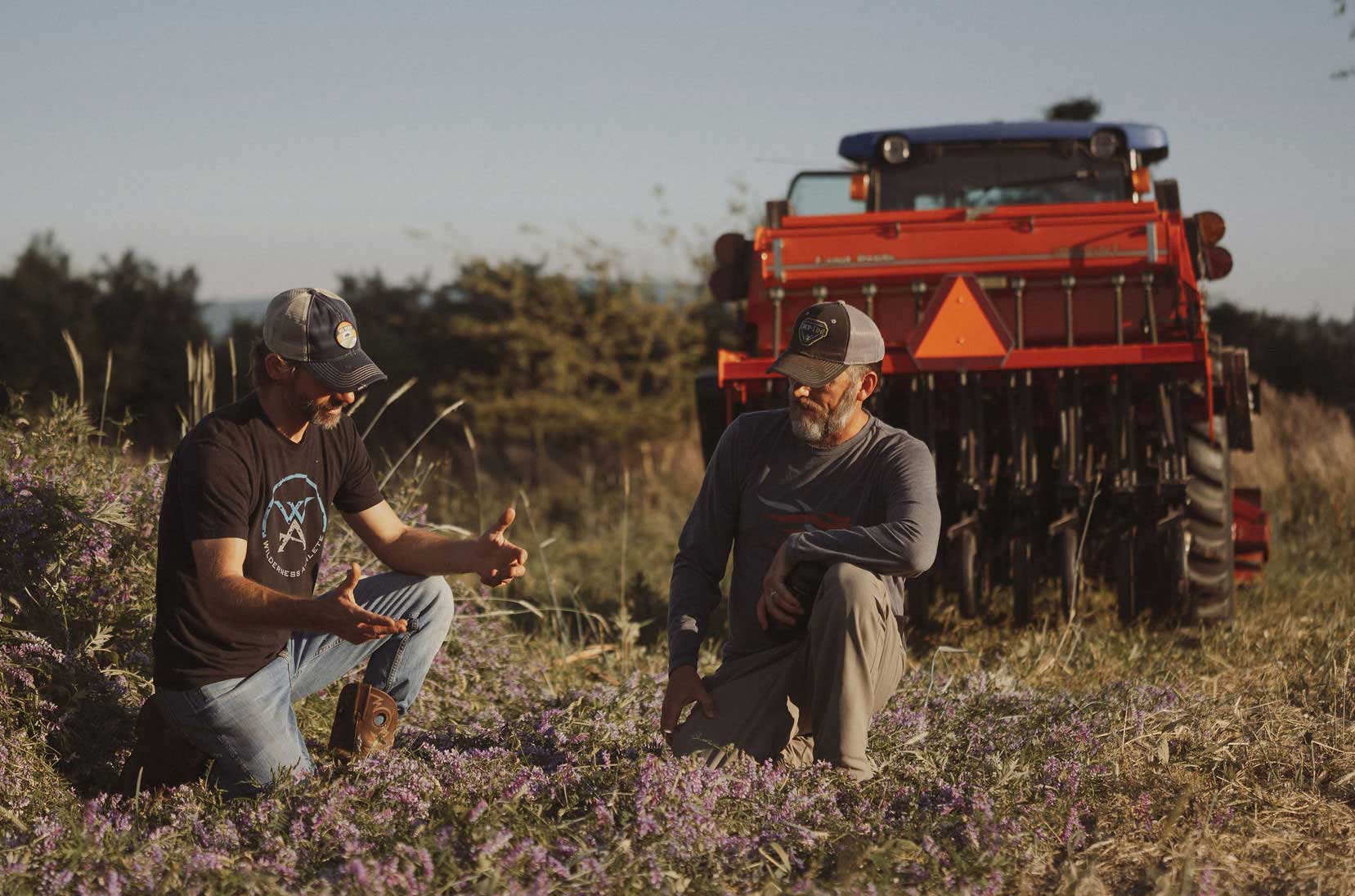 wildlife food plot
seed products & blends
Designed and sourced by a Certified Wildlife Biologist for optimal nutrition & attraction.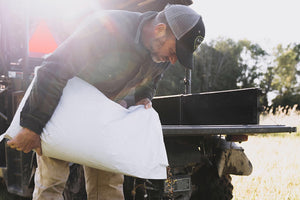 Top Products
Best sellers
Explore top-rated wildlife food plot seed products & blends focused on species complementariness and planting sequences.
Shop Now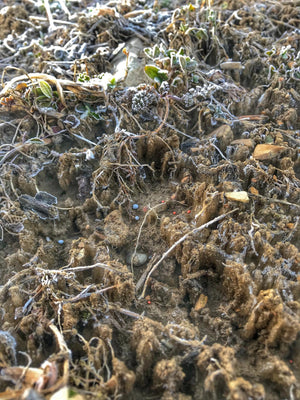 Frost Seeding
Arctic Bloom
For late winter/early spring. The cold nights and warmer daytime temperatures make the soil freeze and thaw, creating a "honeycomb" appearance on the soil's surface.
Shop Now
Testimonials
"I travel extensively throughout North America, working with farmers, ranchers and land holders to advance the health of the ecosystems they manage. To advance ecosystem health and all of the wildlife that lives in it, takes extensive knowledge of how the principles of soil health drive the ecosystem processes. Jason Snavely has that knowledge. He understands that healthy wildlife populations are the result of healthy ecosystems. You can trust Drop-tine Seed Company!"
Gabe Brown, Regenerative Agriculture Educator
"If you think Jason is pushing the envelope in wildlife food plots- you are right! But he does so in an educated and calculated way that will direct you on the path to harvesting big, healthy bucks. You can be assured that the Drop-Tine Seed Company has done its due diligence in sourcing the best value seed grown in healthy soils. Jason has pioneered cutting edge methods that produce regenerative verified food plots!"
Steve Groff, Cedar Meadow Farm
"I have worked with Jason for several years now and have always been impressed with his drive to further his understanding of food plot management in conjunction with soil and plant ecology. We have had many conversations regarding the best approach to implementing soil regenerative practices for his customers on an individual case. His customers can rest assured that he takes his commitment to them personally and will strive to find the right solution for their land."
Dr. Rick Haney, Soil Scientist, Retired USDA-ARS
★★★★★

I really appreciate all the hard work you have invested in these blends. You're giving me the blueprint to food plot the way I have envisioned since reading Gabe Brown's dirt to soil years ago.  The other seed companies I have used just don't cut it. 

Joe Conway

Pennsylvania
★★★★★

Best food plots we have had in 20+ years of food plotting! Jason and Tim are incredibly knowledgeable in the field and will help you any way they can to help you have the best plots you've ever had!

Ethan Hoggard

Missouri
★★★★★

2023 will be the third planting season of our journey from traditional food plots to Drop-Tine's regenerative approach. I love that we are getting away from "Big Pharma" chemicals and herbicides. Tillage and chemical fertilizers are gone and our soils are rebuilding already. After all, we are simply trying to grow a healthier deer herd, so it made perfect sense to plant in Nature's image. The results prove that this is what our whitetails want!

John Bayliss

North Carolina
★★★★★

From tropical storm rains to near drought conditions that we have in Texas, it is a good feeling knowing that the soil is being restored without fertilizer or chemicals using Drop-Tine Seed. After I started using these products, the number of deer using my plots has significantly increased...  The birds and insects visiting the plots have also noticeably increased in just a few years.

Mark Stone

Warren, TX
★★★★★

Jason is guaranteed to single handedly have the greatest positive impact on the food plot industry than anyone in history.

Donnie Grissom

Rockingham County, NC
★★★★★

I've been working with Jason for over 15 years on my farms in Iowa and Pennsylvania. Rather than follow the pack in the whitetail world, he continues to bring innovative ideas and new insights to the food plot and seed industry.... Jason's relentless pursuit to source and blend only the highest quality food plot seeds and put those products in complementary blends is step one in the process.

Jim Jenzano

Iowa & Pennsylvania
★★★★★

After the first conversation with Jason I planted Black Label Legumes and was thrilled with the results. It has proven to be a clover that grows aggressively, withstood heavy grazing pressure and came back to life in the late winter-early spring with minimal work. Awesome product!

Travus Jadus

Bear Creek Township, PA
★★★★★

I have been watching a friend test your Reload seed here in northern Michigan and I am very impressed! We do a lot with the QDMA. I also like that your products seek to greatly improve our soil health.

Steve Koss

Northern Michigan
★★★★★

I wanted to write and tell you guys how thankful I am that I found Drop-Tine Seed Company. I have been enthralled with the TRUE Science that is being preached. I'm extremely thankful that you are so willing to share your trials and errors...

Matt Zulski

Harbor Springs, MI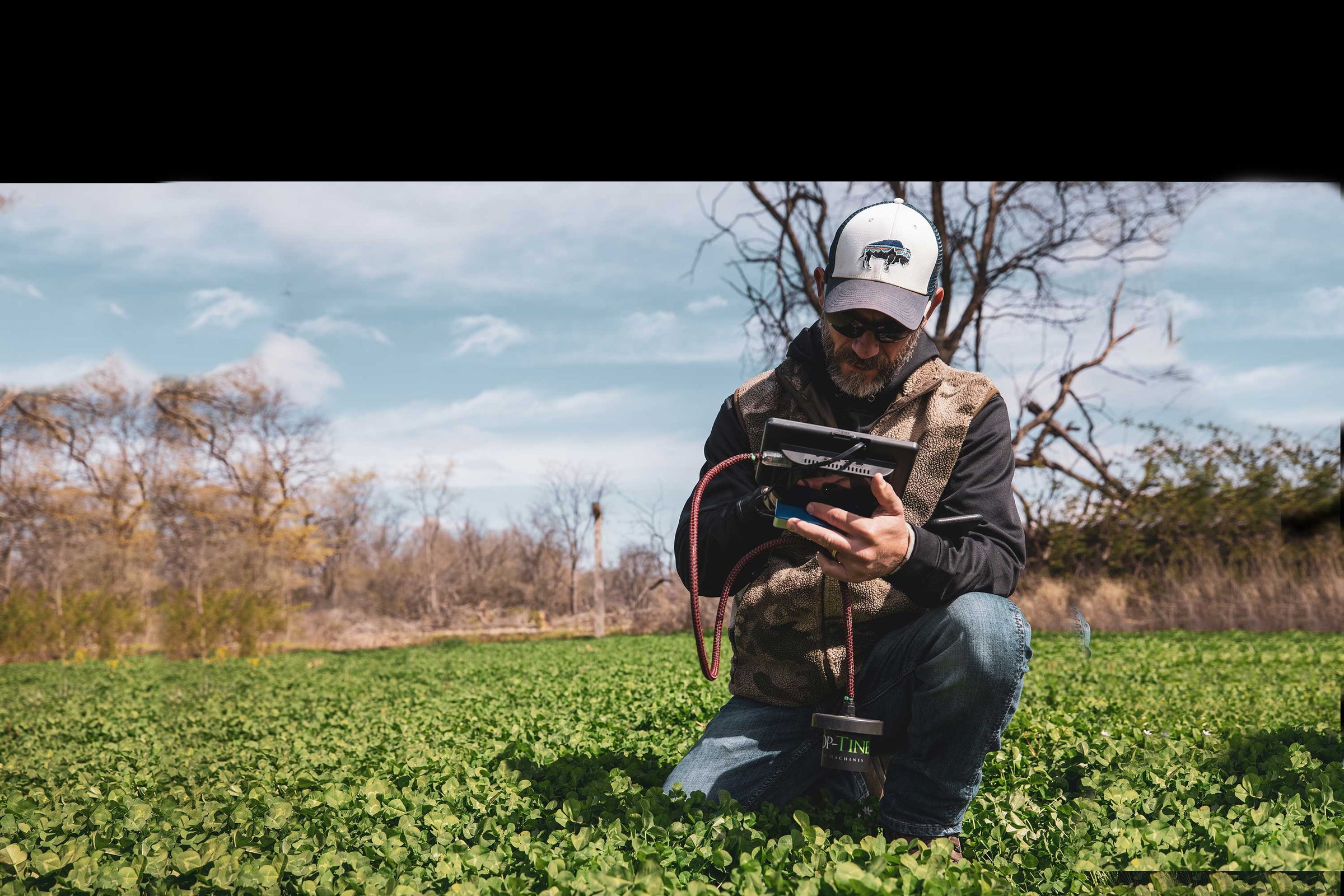 Our Mission & Values
Who We Are
The Drop-Tine Seed Co. is a boutique brand of wildlife food plot seed products, regenerative plant nutrition and complementary wildlife food plot blends designed and sourced by Certified Wildlife Biologist® and leading consultant Jason R. Snavely.

Our products are crafted for optimal nutrient density. We are committed to building the best blends by sourcing seeds from growers dedicated to regenerative agriculture. Our products focus on species complementariness, planting sequences, and eliminating dangerous chemical biocides and synthetic fertilizers.
Shop Now